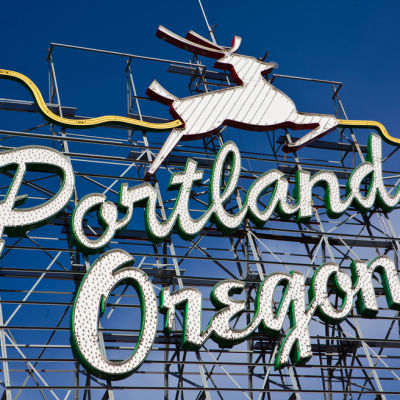 Welcome to Portland
Portland is a safe, very clean and beautiful city. You can feel safe in Portland downtown and neighborhoods night and day. Portlanders are friendly and helpful. Even though Portland has 2.2 million people living in it–and has all the benefits and amenities of a big city–it has a friendly, small town feel.
Portland, Oregon is a great city with distinct and interesting neighborhoods, full of good restaurants and bars, coffee shops on every corner, locally-made beer pubs, and hundreds of food carts where you can try out food from around the world.
To counteract all those delicious meals, Portlanders love to burn calories in the great outdoors. Hit the pavement with one of many local walking tours, see Portland by bicycle or take a hike in one of the country's largest urban forests. Within two hours of downtown, you can visit the Oregon Coast beaches, Mount Hood ski resorts or Columbia River Gorge waterfalls. Portland is home to the nation's favorite airport, an efficient light rail system and pedestrian-friendly city blocks — uncommon qualities that are easy to get used to. Portland has one of the best bus and city-train systems in America. Portland is also the most bicycle friendly city in America. You do not need a car to enjoy living in and exploring Portland!
So whatever your reason for visiting Portland, stay with us today!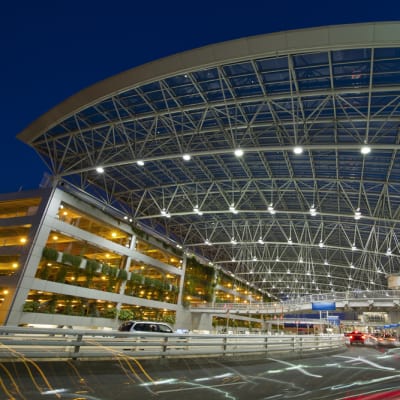 Portland Airport
Hotels Near Portland Airport, Portland, OR
Portland International Airport (PDX)
has been named the
best airport in the United States
in
Travel + Leisure
survey every year from 2013–2016. The airport offers a light rail connection to downtown, free Wi-Fi, great local food and drink (including microbrews, craft spirits and even
food carts)
and tax-free shopping with no markups.
Piedmont Vacation Rental is conveniently located one mile east of I-5 at Exit 294 in Portland, Oregon.

Piedmont Vacation Rental is the perfect place to stay for both business and leisure travelers. This bungalow offers style, convenience and a great environment for today's travelers. We are the best and most convenient bungalow for business and leisure travelers.
We invite you to enjoy a comfortable stay at our bungalow. This spacious 1925 Craftsman home is filled with character, including natural hardwoods, a wood-burning fireplace, many windows for natural light, and enchanting antiques. An open floor plan, 27' living room and large formal dining room provide an ideal setting for get-togethers. Upscale beddings and linens offer luxurious comfort. Quiet tree-lined neighborhood in the heart of Portland's Historic Piedmont District. Easy access to vibrant nightlife, superb dining, and world-class shopping.
This home is ideally suited for
• Large family gatherings
• Celebrations
• Wedding parties
Convenience:
Near the Airport and Convention Center, yet within one block of grocery, drugstore, Starbucks and public transit.
Endless options for dining and entertainment within walking distance of the popular Alberta Arts, Mississippi, Williams and Dekum Triangle commercial districts. Seven minutes to Pearl District, ten minutes to Rose Quarter.
This family-friendly home welcomes children.
Some of our best features include:
• 2 bedrooms, 1 bath on main floor
• 2 bedrooms, 1 bath on second floor
• Luxurious high-end bedding
• Sleeps up to 15 with available queen and twin Aerobeds
• 14 parking spaces including 2 off-street
• Central A/C
• Security system
• 60-inch Samsung HDTV and Blu-Ray DVD Player in living room • HBO, Cinemax, Showtime and Starz.
• HDTV in three of four bedrooms
• Seated dining for 17 with provided folding tables and chairs
• Fully-equipped kitchen and place settings for 50
• Patio with BBQ, covered front porch with chairs
• Dual hot water heater system
• High-efficiency washer, laundry on basement level
• Iron, ironing board, and hair dryer on every level
• Small clothes steamer
• Family-friendly features including Pack-N-Play, two high chairs, booster seats, security gates, 15 board games, toys and bath toys
• Elderly-friendly features including easy access to front door, bath on main level with horizontal and vertical grab bars and shower chair, main bedroom with sleigh bed
•100% Non-smoking bungalow

Operated and taxed under provision TL 90703 R-1 of Portland City Code 6.04.060 D Section Chapter 33.207, June 4, 2015.


NOTE: ** This home has a Type B Accessory Short Term Permit which is now required for 3-to-5-bedroom vacation rentals per a recent change in the Short Term Housing Law in Portland (permit #14-238657). If you are checking other vacation rentals, be sure to ask the owner if they have this permit which is required to operate legally under the new law in the city (and this is an indicator for guaranteeing your reservation).**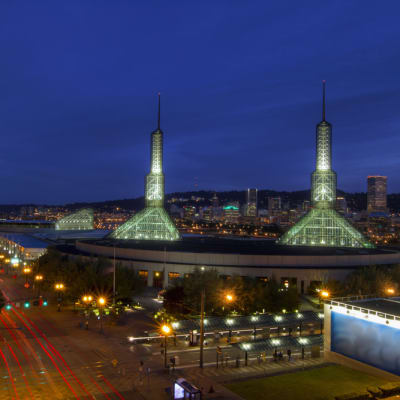 Oregon Convention Center
The Oregon Convention center is located in the Lloyd District, one of the most dynamic neighborhoods in downtown Portland. It contains the largest shopping mall in Oregon, the Veterans Memorial Coliseum and the Moda Center. It plays host to sporting events, parades, community marathons and concerts. Everything is a short light rail or streetcar stop away, including many fine hotels, restaurants and shops. So whatever your occasion for visiting the OCC, don't miss your chance to visit one of Portland's most popular neighborhoods!You'll see vigorous growth the moment you arrive. Cranes top the skyline, and numerous development projects – some commercial, some residential, plus new public plazas and green spaces – are rapidly changing the neighborhood's vibe to one that's both inviting and urbane.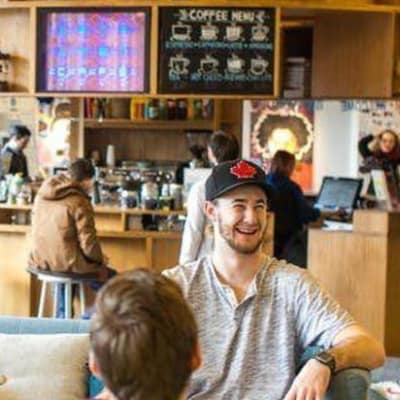 University of Portland
The University of Portland is a thriving community of more than 4,000 students, who come from around the nation and the world, as well as over 1,000 faculty and staff. The University is located up on a bluff in a residential neighborhood overlooking the Willamette River and the city of Portland. The school's location also is the inspiration for its nickname, "The Bluff."
University of Portland is one of Oregon's most prestigious schools with programs including business, education, engineering, nursing, a College of Arts and Sciences, and a graduate school. There are more than 40 undergraduate programs and 30 minors, as well as 18 graduate programs, and more than 1,300 courses. So if you have a relative attending, stay with us today!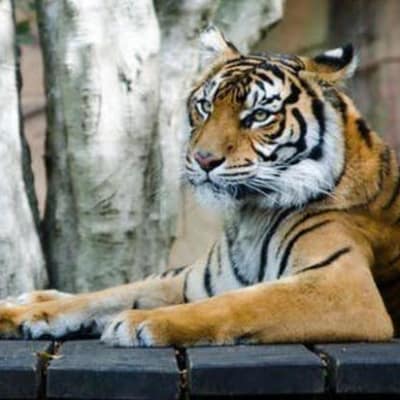 Oregon Zoo
The 64-acre Oregon Zoo is located just a few miles away, The zoo has five major exhibit areas: Great Northwest, Fragile Forests, Asia, Pacific Shores and Africa. Within these large areas are 23 specialized exhibits. Animals of the Oregon Zoo
1,800 individual animals represent 232 species or subspecies of birds, mammals, reptiles, amphibians, fish and invertebrates*
19 endangered species and 9 threatened species live at the zoo.*
The zoo is active in 63 Species Survival Plans.*
Plants of the Oregon Zoo
Native plants of the Pacific Northwest's temperate rainforests have been cultivated to create naturalistic exhibits, pathways and vistas within the zoo.
More than 1,000 species of exotic plants thrive in the zoo's botanical gardens, including firebird heliconia, pelican flower and ground orchid. Some are harvested and given to the animals as browse.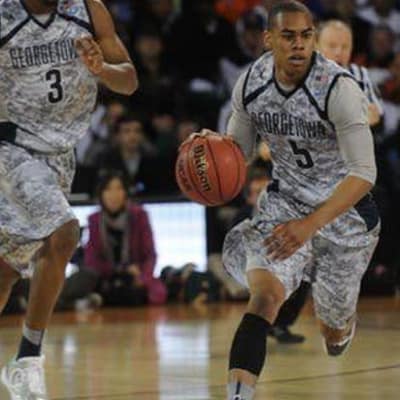 Moda Center
The Moda Center is a multi-purpose arena that opened in the fall of 1995, and serves as the home of the NBA Portland Trail Blazers. In addition to basketball and hockey, the Moda Center hosts a wide variety of events such as concerts, family shows and other sporting events.
In addition, the Moda Center has a variety of concessions at hand. With more than 70 concession stands, food portables, and beverage points of sale located throughout the Moda Center, you'll be sure to find exactly what you're craving. Whether it's a jumbo hot dog, a basket of fish and chips, a frosty beer, cotton candy, or a variety of local favorites. We're conveniently located only a few miles away so stay with us for a great show and an easy commute!